Is CHANGE possible in our DARKEST hours? Part 2 of 2.
If you haven't done so, I recommend you read Part 1 of this article to put these strategies into perspective.
The following is a number of strategies that you can implement to build your resilience so that you can adapt to whatever change life throws at you.
Strategy 1: The first step to conquering anything – is to understand it!
Once we understand why we have the tendency to feel depressed (remember our brain's warning system from Part 1), we become mindful of why and when it is approaching. We can start to take corrective action sooner and train ourselves to be more resilient. The more resilient we become, the more we see change as an opportunity rather than a threat.
There will always be a risk, but have faith that the world is full of blessings and opportunities. Our brain has the capacity to manifest the outcome that we want – but it's up to us to choose whether that outcome is positive or negative.
Leaders, keep this in mind and help those that we lead to transition from a mindset of fear to a mindset of being blessed. Being blessed, is finding peace in the face of a crisis (Philippians 4:7).
Strategy 2: Positive psychology
Rather than thinking, am I qualified to do my job or that I'm in danger of losing my job, think how and where can I use my existing skills whilst building on them at the same time? When there is a change happening at work, there is always a risk of losing your job. However, there are also opportunities for growth – either inside or outside of the company.
Be a positive contributing part of the change, otherwise, those leading the change may see you as the cause of the delays and negative mood. Become the positive change that is needed. There is no such thing as a job for life anymore, so we must always strive to be better versions of ourselves and positive things will happen.
Leaders, give people enough time to go through the change curve process, best outlined by Kobler-Ross highlighting the emotions that people will experience during life-storms, Shock, Denial, Frustration, Depression, Experiment and finally Acceptance. Keep in mind that during a change, you as a leader are probably much further along the curve than your people are, as you have been aware much sooner.
Strategy 3: Don't let your environment define you – transition to a new world.
Despite how it may seem sometimes, leaders are people too and they are trying to do the best job they can. They too have bills to pay and families to provide for. Hold yourself accountable during a change and rather than repeating the language that "this culture is toxic" – ask yourself whether your own behaviour is contributing to building a positive culture or tearing it down. Are you running in with a bucket of water or fuel when a small culture fire is starting to develop?
Leaders – stay strong and find someone to confide in that understands what you are going through. There is no substitute for experience. I have been fortunate enough to have had executive coaches throughout my career, with the most recent being Karen Hailwood (Check out her LinkedIn Profile here).
Enable people to transition by helping them to understand, that it is a natural reaction as pointed out in strategy one. Then give them time and the knowledge to transition as per strategy two above.
And if all that fails and you cannot change the person, then perhaps it's time to change the person for the sake of everyone else.
Strategy 4: Find something to ground yourself to.
Often when we experience a life-storm caused by a change of some sort, we may feel isolated and alone. I know that as a leader, it often felt lonely at the top too.
During these tough times, find something to ground yourself to which will help you tremendously and you won't feel so alone.
Personally, I ground myself in my Christian faith. I pray (similar to meditation), listen to Christian music (giving myself space) and listen to seminars at Church on Sabbaths as they challenge me about how to be kind to myself and how to treat others as you would have them treat you.
Whatever it is that you do – be kind to yourself and others.
Strategy 5: Have a passion project(s)
It is not very healthy to focus too much on ourselves – so do something for others and you will find true joy. I use the word "joy" intentionally rather than "happy", because joy is not dependant on circumstance.
Happy suggests that – we will be happy when we earn this much or when we have purchased and paid off a house etcetera – therefore it's conditional.
Whereas joy, is finding pleasure in the doing. To quote someone that I've recently become friends with through kids and sport, "I don't want to just make a living – I want to live the making" (Kasey Chambers). Check out her latest album here.
I find that there is no greater joy than being a blessing to others. This will come in many forms and will help you to not only build your own resilience but to also set someone else up for success.
Some of my own passion projects include:
Mentoring 10 to 16 year old kids and taking them on weekend camping adventures with my Pathfinders group. We teach kids to cook, camp, abseils, tie knots and work as a team – to be independent and resilient. For more information on Pathfinders, visit their website at https://pathfinders.org.au
Volunteering my professional and commercial skills as a Board Director to community service organisations including Community SOS (https://www.communitysos.com.au/) who provide free financial counselling and micro-loans to help people in hardship, Finding Yellow (https://findingyellow.com.au/) who help the disabled by providing accommodation and assisted living and Central Coast Rugby 7s Academy (http://www.ccr7s.com.au/) who provide mentoring and sports coaching.
Village Business Incubator (VBI) – this is my long-term goal and the thing that drives me the most outside of my family. To provide a facility that will enable at-risk and disadvantaged youth to start their own business with mentoring provided by those with similar stories. Rather than providing them with more courses to help find work, why not encourage them to create their own story – and create their own business? For more information on the VBI or to get involved click here.
Strategy 6: Exercise & Share stories
We all need an outlet of some sort, both physical and verbal in a safe environment. So why not do something that combines those two activities – talking and exercise.
This is exactly what I do. Every Thursday evening, I run around playing jungle touch rugby (in slow motion) with a bunch of other over-the-hill guys (and some ladies) at the Avoca Beach Golden Oldies (ABGO) rugby club. We have approximately 70 members between the age of 35 and 80. We start at 6pm with a run around for an hour, followed by a free BBQ and a couple of beverages followed by much banter and chatting. It's great for the soul!
Obviously it takes a while to earn each other's trust before you start discussing real-life issues – but over time, those deeper and honest conversations eventually take place. It really helps with our wellbeing. I like to think of it as a men's wellness centre. For more information about ABGO, check out their Facebook Page here.
Strategy 7: Walk away.
You may have tried all of the strategies mentioned above, but things don't get better. Perhaps it is out of your control. Now ask yourself this question – are you living a life of memories worth saving? If not, then perhaps it is time to let go.
If you are no longer enjoying your work, perhaps it is time for a change in direction. But ensure that you find closure by doing the things above before you go – otherwise, you may never find the peace you are looking for, or it will take you twice as long to move on emotionally, even though you are no longer in that environment.
Our gut feeling is a combination of our experiences presented to us by our brain in summary format. Sometimes, we have to trust that gut feeling when it's telling us that a particular situation is no longer working for us. (I highly recommend the book Blink by Malcolm Gladwell on that subject)
The rest of my story
In my last executive role before venturing out into the world of consulting, as Chief Operating Officer of a $1.2b Fund Administration corporation, I had formulated and presented a strategy that was accepted and approved by the executive team. Five plus years in, we had turned a fund from a $138m deficit position into a $204m surplus through a combination of increasing revenue from $85m to $125m to $185m, saving $3.8m in overheads, increasing operational efficiency like online channel take-up by 65% thus reducing costs and cross-training and up-skilling staff etcetera – but my mental wellbeing was at its lowest.
I had been formally investigated for a bullying allegation and the case was disproved. It was initially a shock – but I was mostly disappointed and hurt.
It was difficult for me to facilitate and mediate similar bullying issues within the organisation, whilst I was also expected to be a support person to colleagues in similar cases. My wife had also been diagnosed with thyroid cancer and was still in the process of re-entering the workforce after being at home for 10+ years with the kids. Talk about a perfect storm!
Finally, I decided that it was time to walk away and move on. I was in the process of writing my resignation letter when news of a spill and fill of the executive level was announced, meaning that all executives would have to reapply for their jobs – so they were calling for voluntary redundancies.
Walking away from a very well paying job initially appeared to be both reckless and giving up. However, on reflection – it was a blessing in disguise and an answer to many prayers towards the end as I wrestled with the different warning signs that my brain and body were giving me.
I took the voluntary redundancy option. With a year's salary in hand, we bought a caravan and 4×4, paid off all our debts, took the kids out of school and travelled Australia for 6 months (See our Bare Essentials Adventure blog here).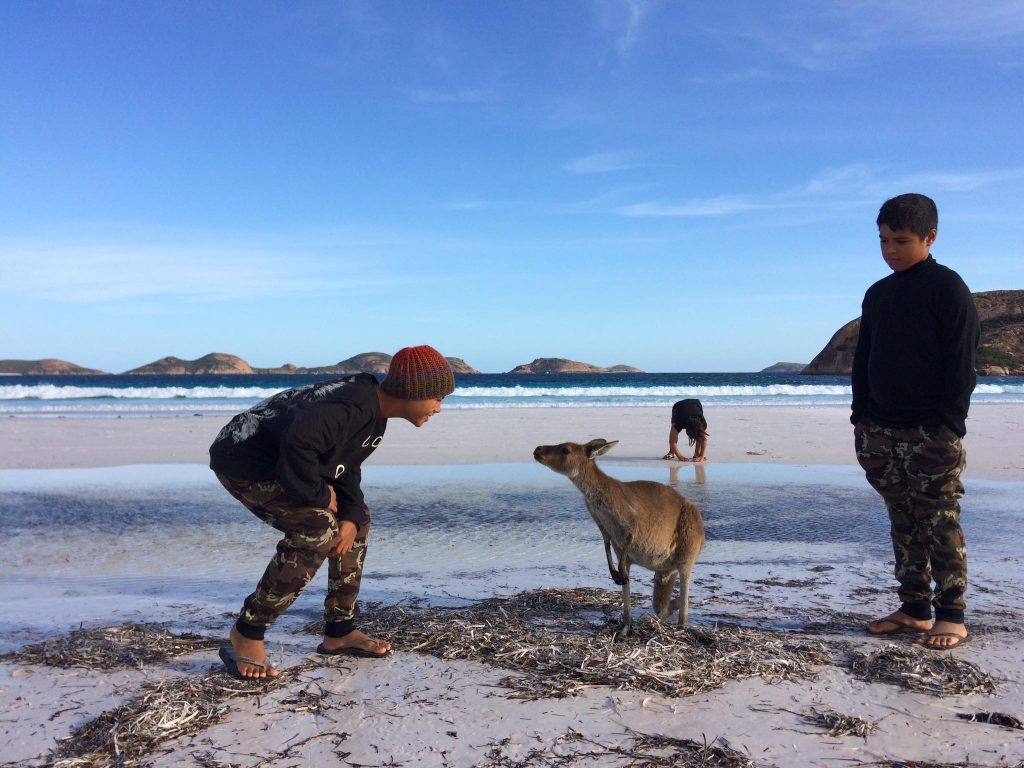 As I reflect and look back – had I not moved on, I would have spiralled into depression. Sure, there were things that I could have done differently in relation to how I implemented strategy, but I have taken those lessons with me and have become better for it.
Now, I use the breadth of my commercial and personal experience gained from that job and all the others, in helping organisations and their leaders implement their own change strategies.
I have since started my own executive coaching and business consulting practice calling it Profit & Values and I collaborate with like-minded people with complementing service offerings.
Those experiences now help me to help business owners, CEOs and leaders to Bridge the Gap between People & Culture, Strategy and Leadership.
The best things though, is I get to spend more time with my family and work on my passion projects.
Despite the Storm – the Sun always rises!
Blessings to you all,
Sam
PS: Rather than believing someone else's version of your story – tell the one that matters – YOURS.